We understand that as a customer you'd like to know beforehand how much a removal job is going to cost. It really depends though on how big the move is and the distance you are moving.
If it's a small move such as a single room or single item, we can usually give you a quick quote. We can do this over the phone or email after asking a few questions.
If on the other hand it's a large move – house removal or business removal – it's not as quick and easy to quote. To give a quote for a move like this, we'd have to ask more questions. In general, the bigger the move, the more unknowns and variables we have to take into account.
Examples of things that can influence how long a move will take:
The amount and type of belongings you are moving
Whether you have things packed and ready when we arrive
Whether there's furniture that needs to be assembled, disassembled or moved to a different room
The distance between the current location and the new location
The distance to parking spaces
Whether there are stairs
Whether movers have to use a lift
Unpredictable events such as traffic or bad weather
There could be a lot of furniture or equipment and maybe several floors. A location could be tricky to get to, or the parking situation isn't clear etc. A larger move like this with lots of things to consider means we have to work things out in some detail. This is necessary to get an estimate that's in any way accurate.
Sometimes we can do it based on a phone conversation or email with photos. (This might be best if it's a long-distance move where calling out to visit may add to cost). A lot of the time though, calling out in person to assess the location, its accessibility and seeing exactly what's to be moved is recommended to provide a good estimate. For a large move like this where you want an estimate done up, we may have include a charge for this in the final cost.
2men2vans does offer this option of a flat rate though and we are happy to provide an estimate if asked. We just want customers to be aware
that the more simple way of paying by the hour may be a better way to go.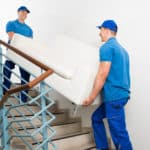 Paying by the hour makes a lot of sense with a job like removals where the work is done in the open. In other words, you can be there at the location to see the work as we are doing it.
In our experience it has happened at times that a customer thinks that asking for a flat rate for a large removal will give them a better deal. They are not aware that if instead they had opted to pay by the hour, they would have saved money. The reason for this is that when asked for a flat rate the mover has to allow some margin for delays that may or may not occur on the day. It can depend a lot then on the speed and efficiency of the movers.
Paying by the hour is often the simplest and more cost-effective way. For this reason, we recommend to spend some time researching removal companies for reputation before deciding which to go with. When you find a reliable company either through recommendations of friends, or genuine reviews online, our advice would be simply to go with paying them by the hour for your large removal.