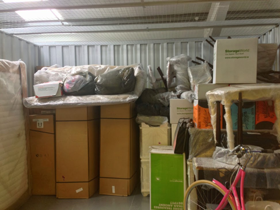 It's that time of year when the attention of college students is mostly on exams, and the rest on looking forward to the summer!
If you're a student in Dublin at the moment and planning to move abroad (or even to another part of Ireland) for the summer months, placing items not needed for the short-term (e.g. winter clothing, books, computer equipment) into storage in Dublin is an option worth considering:

There's the assurance of knowing that your stuff is safe and secure at a convenient location in Dublin city, until you're settled in your next accommodation where it can be delivered on a day and time that suits.
You could end up saving money on taxi pickups or airline luggage fees that you'd otherwise have to pay if taking all this stuff with you, and again when returning in the autumn.
Simply for space-saving reasons, if your summer room will be smaller for storage compared to the space you're used to having during the year.
For details about personal storage facilities in Dublin that are of high quality, yet affordable, see storageworld.ie
To get a quote on the cost of storage and moving items to storage, or to have boxes and packing supplies delivered to your home, contact Remi: remi@2men2vans.ie or text/call on 087 – 210 9915