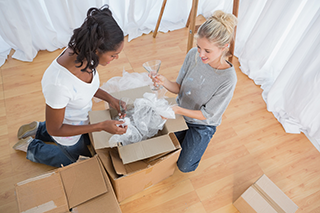 When you're packing stuff for removal day or to send to storage, it's important to go through it correctly. You want to avoid any breakages or damage to items when they're moving.
Many removal companies sell a range of packing equipment. You can get packing boxes come in all shapes and sizes. As well as boxes, consider purchasing bubble wrap, packing tape, furniture covers, removal or transit blankets, and padlocks as well.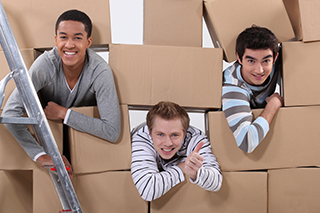 When it comes to packing valuables we have some tips for you to keep in mind. For smaller items we advise to use several different types of packing materials. Different types of specialised packing boxes are available, such as boxes that have built-in dividers to prevent items of value from knocking against each other in the box. This is a common problem that you can avoid by packing smaller valuables tightly together. Ensure that there is still some type of separation between these items. We also advise not to pack items on top of each other. This again is to avoid contact and reduce excessive movement of your items on moving day.
You can wrap larger valuables such as antiques in bubble wrap or foam. If these valuables are big enough to be packed into boxes we advise not to cram too many into one box. Get a reasonable sized box for your item. To avoid your items knocking against each other, keep excess space to a minimum. Fill any remaining space in the box with a loose void fill (small polystyrene chips), or there are different types of foams or packing papers you can use. For example, if packing glassware, such as wine glasses, get special boxes. A professional company should be able to offer these. They should have boxes with dividers, and packing paper to wrap the glasses.
There are a number of companies also that specialise solely in the packing of valuables such as sculptures, ceramics, antiques, paintings and other fine art. They use specialised packing materials, such as foams, acid-free tissues and crates. We advise that you use these companies if your item is of extremely high value. This is likely to be reflected in the cost though due to the specialism required. These companies should also offer courier services and all-risk insurance for peace of mind in case of any breakages or damage.
If you're looking to purchase packing materials in large quantities, many companies will offer discounts. If you feel unsure about the correct methods of packing, or just don't have time to pack, many removal companies will do this for you. Just be sure to check references and recommendations on the company's social media or website.