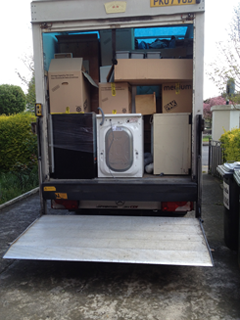 The kitchen is probably the hardest room to pack, and that people tend to leave until the last minute. We hope that this short guide will offer some tips to help with your kitchen move.
Consider the different sizes and weights of all kitchen items.
Different box sizes and/or box-strengths will be needed:
Small and strong/double-walled boxes for fragile items such as crockery, plates, glassware.
Medium-sized boxes for medium-weight or less fragile items such as cutlery, pots, pans, small kitchen appliances.
Large and relatively light-weight boxes can be used for racks, plastic bowels/containers, baking trays, colanders etc.
Use this time to also declutter and discard items that you no longer use.
Items that are useable could be sold online, or donated to charity shops.
Likewise with stored food. For example if you have a lot of canned food, it might make more sense to donate these than to move them.
Spillable items
If you're packing items that could spill – such as oils and vinegars – place each item in a plastic bag and tie it securely. This will minimise damage to other items in the event of breakage or spillage.
Materials for wrapping
We recommend to have plenty of paper available to wrap individually fragile items. (A tip here is to save the filler paper received in packaging for parcels or boxes you receive by courier etc). Newspaper is good also, or you could use cloth or tea towels for some items.
It's good also to have a large roll of bubble-wrap, for extra protection of small appliances or delicate items such as wine glasses.
Rolls of strong tape, labels, markers
Make sure you will have have enough tape and labels to cover the whole move. It often happens that people underestimate the amount of tape needed for packing, leading to some things being badly packed at the end. (Of course if you need extra tape and other packing materials delivered, contact us!)
Fragile plates/china
For plates that are very fragile, stack them on their sides (with protection/bubble wrap in between). This positioning will make them more likely to withstand any bumps in the journey, than if they were stacked flat(i.e. one on top of the other).
Small Items inside large items
Pack smaller items inside larger items where possible, to save space and also to protect the larger item.
Packing 'essentials'
As suggested in our "Tips for Moving House" post, it's a good idea to set aside a box for 'essentials' – cutlery, plates, cleaning product, first-aid kit etc. Prepare this early enough as it may be forgotten if left too late. (If it's a large house move, you might like to have an 'essentials' box for each room, or each family member).