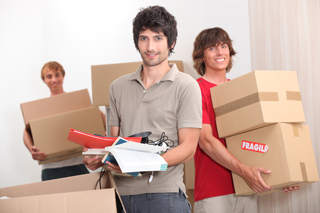 When you are thinking about the different elements of a commercial relocation, it is essential that you are completely on track with how you are going to ensure the safety of the company's belongings. It can be very expensive to replace the items that can get broken on a removal, and you will find that the resulting issues can really get in the way, if you are not careful.

The insurance that a lender or a removal company will give you on commercial removals will be good, but it will often have an excess, which will make it difficult to validate claims below a certain amount. This may well be more than you would need for a smashed computer monitor, despite that still being an intrusive damage, and a large amount of money. Be sure that you are well aware of how you are packing, so that these things never become a problem in the first place, and you will be much better set for a stress free, and economically viable removal.
You will find that the best way to ensure that you are packing well for your business relocation is to hire a packing service. You will undoubtedly be able to ensure that the job is done well by the team that your removal company provides, and they will always use the best packing supplies. You should find that there are specific boxes that can be used for specific items, like computer monitor boxes, flat boxes for wall art, and many other item specific packing solutions. You will need to talk over this kind of thing with the moving services, to ensure that it all makes sense for you, but beyond getting your staff to do the job for you there will be little other option than a packing service, if you have a large office to move!
The way in which things are packed within the boxes is important as well. You will find that the more delicate items will need to be wrapped individually within the boxes, to ensure that they do not smash against each other, and break. You need to be well prepared with all of the materials necessary for the job if you are going to do it yourself. Bubble wrap, packing paper, removal boxes, tape and markers are all essential.
Markers are a surprisingly important part of that list, as they will be a big part of ensuring that your boxes are labeled, which is vital in terms of the unpacking process going smoothly. If you are able to, you will be well set to ensure that you are getting the boxes labeled in a way that ensures that getting the new office up and running is an easy task, rather than the massive pain in the neck that it could well be! If your moving boxes have the room that they are destined for and the contents written on them, then the movers will know the best way to treat and pack the box in to the van, as well as leaving your unpacking team free to get the job underway as quickly as possible, without having to sort through the boxes, working out where each one is. If you are clever about it, you can organize the safe and sensible unpacking of the boxes whilst you are packing them, which will help to ensure that the office gets back up to its regular working order in no time, meaning that you can get your work back on track straight away.
For further information about Removals for Office and Business, contact Remi at 087 210 9915, or remi@2men2vans.ie
For Removal Services in London, England, we recommend: North London Movers